Anchor Bolts: Measuring center & height
Tachymetric measuring of axis positions of circular objects is difficult without special tools. Now there is a tool available which can determine the position of vertical holes as well as of vertical anchor bolts. The cone adapter can be rotated by 180° and used upside down, depending on the application. A steel pin with the prism is inserted through the axial hole of the cone adapter. A circular level is used to set the cone adapter / steel pin / prism unit perpendicularly.
The adapter then can be used to measure anchor bolts. For additional information please open our catalogue.
Easy Bolt/Stud Surveying
Threaded bolts with large diameters (M24, M36, M48, etc.) are frequently found in the construction and industrial sectors. The exact measurement of anchor bolts is important in order to precisely place components delivered later on top of them. The precise measurement of the position (as well as height, if necessary) of the bolts with the cone adapter offers many advantages: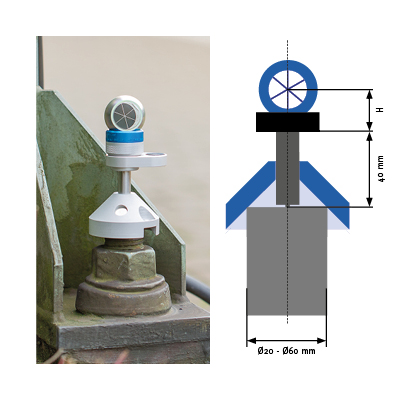 Attributes of the Bolt Measuring Adapter
The tip of the steel pin stands on the top of the bolt. By taking into account
the distance from the tip to the center of the prism, the correct height of the upper side of the bolt is obtained in addition to the position of the bolt.
3 integrated magnets hold the cone adapter on magnetic parts
Cut-out on both sides for optional circular level
Measuring bore holes with Cone Adapter
The cone adapter can be turned by 180°. It can then be inserted into (bore) holes. Due to the conical shape of the adapter, the prism centers itself above the axial center of the hole. This allows the position of Ø20 – 60 mm holes to be measured quickly and easily.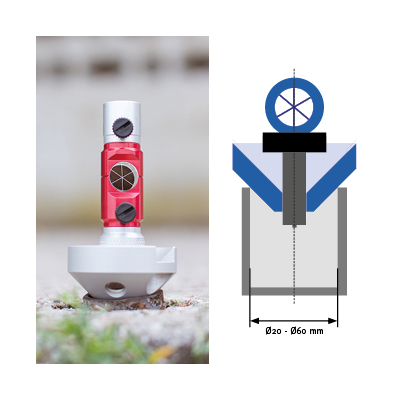 Borehole Measuring Adapter
Adapter fits on (bore) holes Ø20 – 60 mm
To determine the axial center of the hole
Can be used with ball prism or with steel pin with any other prism