AUXILIARIES FOR RAIL AND TRACK SURVEYING
High differential accuracies can be achieved in rail and track measurement with suitable devices and a good measuring arrangement. For this purpose we offer the "track gauge system", "rail angle SW PRO" and "prism holder for bolt markings". When used with our slim prisms of the HIP series, they can be mounted close to the catenary masts.
Track marking requires special accessories, aligned to 12 mm diameter bolts and specified track gauge.
Rail Angle SW Pro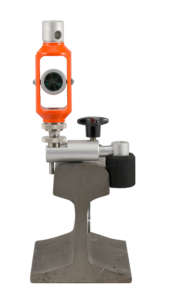 Rail angle for exact measurement of the track position
Exact contact at the reference point
Vertical use also guaranteed on tracks with an angle
Comfortable working in a standing position possible
Can be used for all rail widths (6-8 cm) thanks to adjustable stop
Optionally available with Leica spigot or 5/8″ connection
Special designs possible, e.g. for crane rails
Prism holder for bolt marking
Prism holder for horizontal bolts
For measuring horizontally inserted Ø 12 mm bolts, e.g. on overhead line masts
Simple vertical positioning exactly above the reference point
Optional with circular level visible from below
Optionally available with Leica spigot or 5/8″ connection
Track Gauge System TGS
Surveying rail positions and track gauge
Tachymetric determination of track gauge (950 to 1500 mm), superelevation and track axis
Electrically non-conductive
Use two prisms of your choice
More information
You will find these articles under the chapter "Track and rail measurement" in our complete catalogue.